A lot of organisations that made a societal impact in the 20th century are wrestling with the question of how to stay relevant today. Pax Christi fell into that category. Guided by Koenraad, Peter, Marianne, and Aurélie, the organisation underwent quite the metamorphosis.
Client
Right after World War II in 1945, Pax Christi was founded in France as a Catholic peace movement committed to promoting peace, human rights, and reconciliation. Today, Pax Christi operates in over sixty countries worldwide. In Belgium, the organisation played a crucial role in the protest against nuclear weapons. On October 23, 1983, during Belgium's largest demonstration ever, Pax Christi rallied more than 400.000 people in Brussels. Later on, the organisation led Belgium to become the world's first country to enact an outright ban on the production, trade, and use of landmines.
The question
Pax Christi came to us during a time of great uncertainty. The organisation was at risk of losing its regular funding—so they needed a new strategy, translated into a policy plan to sway the government. A significant reorganisation and operational adjustments also called for crisis management and support to guide the team through this tough stretch.

The impact
We put together a change team to tackle the elements the government had marked as crucial for keeping Pax Christi's funding. The focus was on "getting things done", leading the organisation to develop activities and make significant leaps in their communication with the outside world, from language to content to reach.
Teaming up with Pax Christi's board and director, we crafted a reorganisation plan that focused on minimising overhead costs while maximising the allocation of financial resources to hands-on work. We also took a closer look at the collaboration between professional and volunteer staff, resulting in new roles and corresponding job descriptions for each team member.
Simultaneously, we put together a brand new policy plan and managed to convince the authorities of the organisation charting a brand new course. And guess what? We pulled it off. The result: a reinvigorated team and a fresh dose of energy.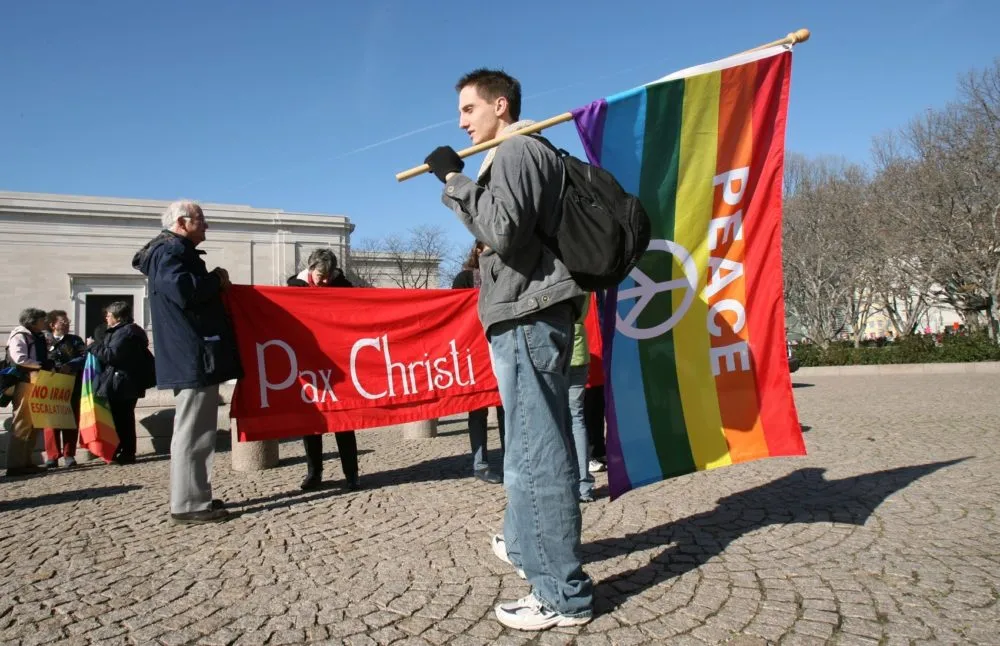 The challenge
At times, an organisation finds itself in such trouble that it gets overwhelmed by chaos and nobody's quite sure what to address first. Together, we refocused and set our sights on the future. We tackled the tension between team members who were open to a major change and those who considered resisting or throwing in the towel. Everyone had to step out of their comfort zone, making solid support from the board and the team vital.
"Pax Christi revolves around warmth, connection, justice, and consideration for every individual. It was an honour to be a part of their significant history. I'm proud of the transformation succeeding and the world recognising it."
The collaboration
Pax Christi willingly embraced guidance during its most vulnerable time. We wholeheartedly joined the organisation in its fight for survival, as if we were part of the team. After an intense year and a half of working together, we're proud to see them making a comeback—stronger than ever, with an important mission that (unfortunately) has regained its relevance, even at the homefront.
One for the road — tips and tricks by Annemarie Gielen, CEO at Pax Christi
S&L combined a hands-on approach with a solid framework. This dual strategy let us envision the potential outcome while also offering real-world guidance and assistance.

The crisis within our organisation had reached a point where seeking external assistance was imperative. Otherwise put: don't hesitate to ask for help and keep an open mind.

Stay true to your own values, mission, and vision. So, when suggestions are put forth, be critical. However, extend that critical thinking to your own approach as well. Always engage in dialogue, this helps you understand your own stance better, with wiser decisions as a direct result.
"Pax Christi's potential loss of funding was the most intense crisis I've faced throughout my entire career. As CEO, you've got your team's well-being at heart, but you're also responsible for keeping this amazing movement going—honouring the work of those who came before and recognising the immense dedication of our volunteers and donors. It felt like the ground was being pulled out from under me, which is how I knew we needed outside help to overcome this peril. I'm so grateful for crossing paths with Peter from S&L, marking the start of an incredible journey with Koenraad by my side. Marianne and Aurélie did a stellar job, too. Pax Christi is back!" - Annemarie Gielen, CEO at Pax Christi   
Does this case appeal to you?
We'd be happy to listen to the specific needs of your organization. We'll come as a pair to listen to your request and make an initial proposal. Based on the feedback and further co-creation, we'll provide a final proposal.