Non- and social profit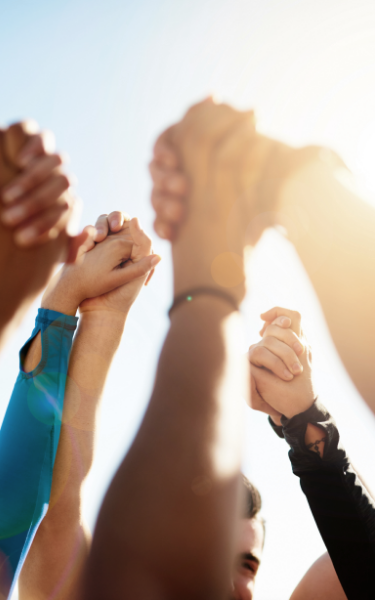 When your goal is to improve the world, there's a lot to accomplish. You might think every small effort helps—but if you ask us, that's not entirely true. To make your strategy come alive, a well-defined action plan is essential. Who does what, and when? Which people, resources, and partners do you need? And which approach should you avoid?
Throughout this trajectory, we join forces with you to build a new strategy together, complete with a tangible action plan!
What's in it for you?
A brand new, carefully crafted strategy

A realistic action plan, made to put into practice

A clear understanding of your audience's needs

An overview of the setting in which your organisation operates

Attention to your organisation's current situation and agility
Your objective? Meaningful impact on the world.
Your organisation is alive (to say the least) with ideas to make the world a better place. The possibilities, however, are endless—so you feel the need for a clearer focus. You no longer want to waste energy on scattered efforts.
High time for a clear strategy with tangible impact.
At Strategies and Leaders, we help your organisation determine its strategic focus. Next, we put theory into practice by developing a concrete action plan. The goal? Successfully executing your brand new strategy.
We help you define your strategy—then turn it into reality.
First, we develop a strategic roadmap for your organisation. Then, we set a flag on the horizon, permanently visible to keep everyone aligned.
The journey towards a new strategy
Strategic exploration


Is it clear which societal problem your organisation wants to solve? What are your organisation's ambitions? And how do you set yourself apart from others?


 
Audience analysis


We delve into the minds of your target audience. Does your strategy cater to their needs?


 
Context research


We look into external factors and stakeholders your organisation should take into account.


 
Evaluation of your organisational model


How is your organisation performing today? Keeping your ambitions, target audience and (evolving) context in mind, we look for necessary adjustments. 


 
Crafting a new strategy


Armed with all this information, we draft your organisation's strategic development lines—with special attention to the necessary levers. And last but definitely not least: together, we decide what you 

won't

focus on. Your 'non-strategy', if you will.


 
Implementing your new strategy: the action plan
Want your strategic plan to succeed? Make it concrete. Focus on the elements that yield the quickest and most significant results. Establish priorities, and assign responsibilities accordingly.
We're in this together—after all, you know your organisation best. What we bring to the table? Insights, know-how, and experience gained from over 300 strategic guidance sessions.
The result: a brand new strategy, action plan included.
At the end of this trajectory, you'll have a brand new strategic plan in place. One that serves as a solid framework for your organisation. A strategy that clearly outlines your direction and aspirations, while keeping it concrete and realistic.
That's why we always craft an action plan to go with your brand new strategy. In it, we translate strategic choices into your organisation's day-to-day operations. We put theory into practice, so you can take real steps towards the better world you want to achieve.
Curious about our approach?
Step 1 — Strategically exploring your organisation.
We delve into your organisation. Starting from scratch is rarely necessary, so we begin by exploring all previous plans, reports, and grant files. Don't have any of that stuff available? That's absolutely fine too!
After that, it's time to have a chat. Depending on the size of your organisation and the provided time frame, we talk to both employees and executives. This leaves us with a solid first impression of your organisation.
Your organisation's distinctive position
Teaming up with a core team from your organisation, we get to work. Using a structured approach, we determine what makes your organisation tick. What sets you apart from others?
At the same time, we uncover present ambitions, giving ourselves an initial glimpse into the potential paths your organisation can take. At this point, everything's still wide open. Which is absolutely fine!
Collective ambition
To sharpen our focus, we uncover your stakeholders' joint ambitions. Your organisation probably already has a mission and vision. If not, we'll develop them together.
The outcome: a crisply defined, ambitious North Star to guide us towards where we want to be twenty years from now. What do we aspire to achieve by then?
Societal issue and impact
In one or multiple workshops, we take a closer look at which societal problem your organisation wants to solve. It's crucial to describe this problem clearly and in depth. A common pitfall for organisations and social entrepreneurs is wanting to address all societal problems at once. The consequence? A strategy that lacks focus.
Now that we know all about your collective ambition and the societal issue you want to take on, it's time to establish the ultimate impact you want to make. In other words: we start at the end.
From here on out, we reverse our approach. Which long-term results (Outcome) are needed to make an impact? And once those are defined, which immediate results (Output) can we accomplish in the next four years?
Only now, we start to look into which offer aligns best with the impact we want to make. From this moment on, we think in concrete, specific solutions.
Step 2 — Understanding your audience and aligning your strategy to meet their needs.
A strategy sinks or swims depending on whether it serves your target group. That's why a thorough understanding of your audience is vital.
Empathy Mapping: get inside your audience's mind
This part can be as extensive or concise as you like. We start by assembling a core group of employees and, during at least one session, delving into the minds and hearts of your current and potential target audience. This is called Empathy Mapping.
If you wish, we chat with your audience as well, through individual interviews or group discussions. You'll be amazed at the information you've been overlooking!
In case of the above, we start by conducting a qualitative survey. If necessary, we use quantitative methods as well—by delving into your database and distributing a questionnaire, for example.
Another interesting question to pose at this point: whom are we currently failing to reach? And who should we be reaching in order to make a real impact? Who has an influence on the issue, and who doesn't? Time to explore the potential of other, new target groups. We're also not above taking a look at what other organisations are doing.
A more impactful offering
Now that you know your ideal target audiences inside and out, we assess how this knowledge aligns with your current range of activities and services. In doing so, we may discover an offering your audience is interested in that you're not offering yet. 
However, it's usually the little things that matter. Throughout this process, we often come across quick wins to help you reach and serve your target audience much better.
Step 3 — Being mindful of the outside world.
The world is bigger than your organisation. That's why we map out the external forces influencing it. We focus on relevant trends, market developments, and existing plus anticipated shifts within the industry. We assess their impact on your organisation and try to estimate whether that influence will increase or decrease.
There are multiple ways to take on this step. From a small participatory workshop with a core team from your organisation to a concise study: we conduct an environmental analysis, mapping out demographic, economic, socio-cultural, technological, ecological, and political-legal influences and trends.
Step 4 — Evaluating your organisational model.
Before you can chart your course forward, you need a clear understanding of where you are today. That's why we map out your organisation's current situation, strategy, and offering.
How is your organisation structured? What value does it currently provide, and how does it do that? Which activities and partnerships are necessary to get there? How does this align with available resources? Where are the bottlenecks? Any new needs arising among the target group? What is hindering operational functioning (your organisation's processes)?
Again, the scope of our guidance is up to you. We know your organisation well by now, so at this point, it's often possible to conduct a participatory 360-degree analysis in one single workshop. Sometimes, we opt to collaborate with you in developing a SWOT or SWOART. For larger organisations, we audit every domain.
Step 5 — Developing strategic guidelines.
Finally, we have all the ingredients we need to cook up a brand new strategy.
The next step may be a bit confrontational. That's why, at this stage, we pay close attention to the agility of your organisation: how quickly are you able to adapt in the short and long run?
While developing a new strategy, we keep in mind your internal structure, role distribution, and organisational culture. If possible, we seamlessly bridge the gap to your communication strategy.
Strategic development lines
We delve deeper into the various strategic development lines we see for your organisation. We determine where we are right now, and where we need to go from here. Together, we outline a gradual evolution—the path you and your organisation want to walk, taking the biggest strides possible.
Strategic development lines lead you towards achieving your mission. They are closely linked to your organisation's ultimate objective.
Levers to bring your strategy to life
We also determine what you need to navigate these development lines. Otherwise put: your levers. Do you have the right people on board? Do you have sufficient resources? Are there any partners missing, and which ones are no longer useful?
Levers are crucial focal points within your organisation. You need them to accomplish your development lines and successfully embark on your renewed strategic journey.
Non-strategy
We rarely encounter organisations with unlimited resources. That's why it's equally important to decide what you're going to stop doing, and which ideas you're putting on hold. Only then will you gain the necessary energy and space to embrace your new strategy.
Step 6 — The action plan: implementing your strategy.
Many organisations struggle to put their strategy into practice. That's where the action plan comes in, providing a roadmap to identify and execute all the crucial steps required to bring your new strategy to life. Together, we determine the right priorities for each development line. We convert the action plan into a timeline and, if necessary, a GANTT project plan.
More often than not, we also build a simple monitoring system during this step. This allows you to keep track of the new strategy's implementation into operational aspects, so you can make timely adjustments.
Want to know more or schedule a meeting? Have a question?
Don't hesitate and let us know.